Pennsylvania | New Jersey | Delaware
Eligibility, Enrollment, COBRA, McCullough Day Benefit, Weekly Accident & Sickness Benefits, Medicare Retiree Supplemental Benefits and General Plan Information
Roofers Union Local 30 Combined Health & Welfare Fund
c/o BeneSys Administrators
PO Box 4600
Troy, MI 48099
1-888-339-9209 Toll-free
1-248-864-2413 Fax
Personal Choice
Independence Blue Cross
PO Box 890016
Camp Hill, PA 17089-001
215-557-7577 Phone
1-800-626-8144 Toll-free
www.ibx.com
Hospitalization/Surgical Benefits
Claims
Highmark Blue Shield
PO Box 890062
Camp Hill, PA 17089-0062
Major Medical Benefits
Roofers Union Local 30 Combined Health & Welfare Fund
c/o BeneSys Administrators 
PO Box 4600
Troy, MI 48099
1- 888-339-9209 Toll-free
1-248-864-2413 Fax
Prescription Drug Benefits
Future Scripts
Independence Blue Cross  
1901 Market Street
Philadelphia, PA 19103-1480
1-800-ASK-BLUE (275-2583)
www.ibx.com
Concordia FLEX
United Concordia Companies, Inc.
4401 Deer Path Road
Harrisburg, PA 17110
1-800-822-3368 Toll-free
www.ucci.com
Vision Benefits of America
400 Lydia Street, Suite 300
Carnegie, PA 15106
1-800-432-4966 Toll-free
www.vbaplans.com
Union Labor Life Insurance Company ("ULLICO")
8403 Colesville Road, 13th Floor
Silver Spring, MD 20910
1-866-795-0680 Toll-free
www.ullico.com
Roofers Union Local 30 Combined Pension Fun

d
c/o BeneSys Administrators 
PO Box 4600
Troy, MI 48099
1- 888-339-9209 Toll-free
1-248-864-2413 Fax
Roofers Union Local 30 Combined Annuity Fund
c/o BeneSys Administrators 
PO Box 4600
Troy, MI 48099
1- 888-339-9209 Toll-free
1-248-864-2413 Fax
PFCU (Philadelphia Federal Credit Union)
12800 Townsend Rd
Philadelphia, PA 19154
215-934-3500
Concordia FLEX
United Concordia Companies, Inc.
4401 Deer Path Road
Harrisburg, PA 17110
1-800-822-3368 Toll-free
www.ucci.com
National Roofing Industry Pension Plan (NRIPP)
Wilson-McShane Corporation
3001 Metro Drive, Suite 500
Bloomington, MN 55425
PFCU (Philadelphia Federal Credit Union)
12800 Townsend Rd
Philadelphia, PA 19154
215-934-3500
Roofers Union Local 30 Combined Annuity Fund
c/o BeneSys Administrators 
PO Box 4600
Troy, MI 48099
1- 888-339-9209 Toll-free
1-248-864-2413 Fax
Maryland | Virginia | Washington D.C.
National Roofing Industry Pension Plan (NRIPP)
Wilson-McShane Corporation
3001 Metro Dr., Ste. 500
Bloomington, MN 55425
Toll-free: 1(800) 595-7209
Phone: (952) 854-0795
Fax: (952) 854-1632
Website: www.nripf.com  
Roofers Union Local 30 Combined Annuity Fund
c/o BeneSys Administrators
PO Box 4600
Troy, MI 48099
1-888-339-9209 Toll-free
1-248-864-2413 Fax
Union Plus
All Roofers Local 30 members get access to benefits and discounts through Union Plus. For more details, visit www.unionplus.org.
Money – prepaid debit card, strike benefits
Home & Auto – auto buying, mortgage program, professional moving discounts
Shopping & Discounts – AT&T, concerts and events, restaurants
Insurance – auto insurance, homeowners insurance, accident insurance
Health – dental, hearing, vision
Education – free college, Union Plus scholarships
Travel – car rental, hotels
This link leads to the machine readable files that are made available in response to the federal Transparency in Coverage Rule and includes negotiated service rates and out-of-network allowed amounts between health plans and healthcare providers. The machine-readable files are formatted to allow researchers, regulators, and application developers to more easily access and analyze data. https://www.cigna.com/legal/compliance/machine-readable-files 
Helmets to Hardhats
Helmets to Hardhats is a national, nonprofit program that connects transitioning active-duty military service members, veterans, National Guard and Reservists with skilled training and quality career opportunities in the construction industry. The program is designed to help military service members successfully transition back into civilian life by offering them the means to secure a quality career in the construction industry.
Roofers Local 30 is a staunch supporter of the Helmets to Hardhats program. For more information, please contact Denis McIntyre or Joe Orlando, 215-288-8005, DMcIntyre@rooferslocal30.com and JOrlando@rooferslocal30.com, or Lisa Ford at Helmets to Hardhats at (202) 756-4625.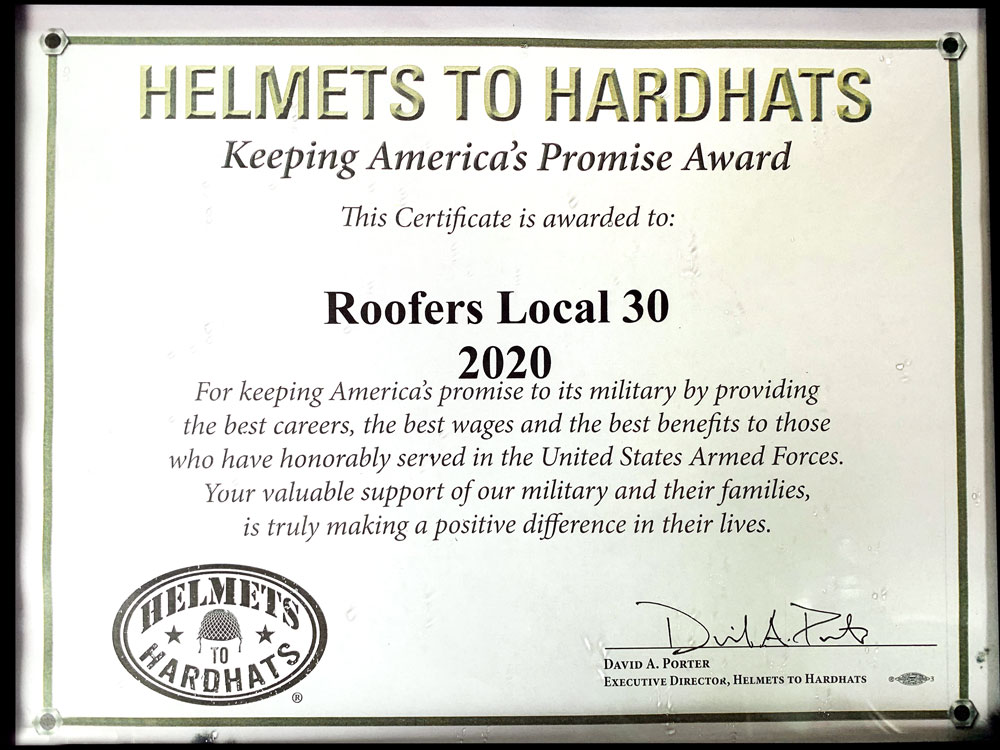 Union Sportsmen Alliance
The USA works to unite union sportsmen and sportswomen to educate future generations of sportsmen, conserve healthy wildlife habitat and volunteer their time and skills for projects that improve access to quality outdoor recreation.
If you hunt, fish, shoot or simply enjoy spending time outdoors, the Union Sportsmen's Alliance (USA) is where you belong. And thanks to the support USA receives from the Roofers Union, you can join for free!
USA members enjoy the latest hunting and fishing news and tips, exclusive discounts on outdoor gear, chances to win fantastic prizes all year, a subscription to the Union Sportsmen's Journal and more. The USA also has an exciting TV series, Brotherhood Outdoors, featuring hardworking and hard-playing Union members like you. 
As a member of the Roofers Union, you are eligible for a no-cost membership. You can join online at join.unionsportsmen.org or call toll-free at 877-872-2211.